Yom Kippur in Canada
Rebecca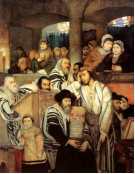 When you're not indulging in some cheap shipping from Canada, the country has a lot to offer. From lively sporting events, delicious food spots, to Drake's OVO brand, Canada has a variety of things to make anybody. And of course there's the celebration of Yom Kippur. So how does one of the most scenic and culturally diverse countries recognize Yom Kippur ? And how's this all tie into tax-free shopping in Canada? Find out below!
What is Yom Kippur
Yom Kippur is a Jewish Holiday. Mostly, it centers around one day of fasting and prayer. Families get together. Reflection is on the mind of those practicing Jewish faith. And really, the day itself is about atonement. It's a day where if you have a Canada address or not, if you're Jewish, it means something. This year, Yom Kippur falls on October 9th, 2019. But is always the tenth day of the Jewish calendar, which means next year it will fall on Monday September 28th 2020.
Yom Kippur Gifts From Canada
Some great gift ideas that you can purchase from Canada and then ship from Canada to USA include but of course aren't limited to:
Jewish Calendars
Jewish themed household items
Variety gift baskets
Books
Music
Photo albums
Yom Kippur is a holy holiday that centers around not only repentance and atonement but also selflessness. So spend Yom Kippur in Canada this year, and remember before you hit that buy it now option when gift shopping, there's nothing quite like shopping tax free from Canada!
Your Savings Advantage
What is the secret to getting the best possible deals on international goods shipped to your door? Many popular brands don't provide international mailing services. Regardless of their origin, ShipByMail gets your purchases to you swiftly and safely from your virtual mailing address Canada to wherever you may be on the planet. We've been a package forwarder for many retailers, giving our Members substantial savings on items that would have otherwise have been much more expensive if sent to you directly. Thinking of ordering something? Estimate the price of package forward delivery from your Canadian address to wherever you are using our handy Shipment Calculator.
There's a Bonus?
ShipByMail can get you even better savings by enabling you to take advantage of domestic shipping and our international shipment savings. If you purchased goods directly from retailers, your international shipping rates would be very expensive. Worse, you would need to pay shipping for every single package from every single retailer. That is a lot of lost savings. The best part of shopping with ShipByMail? Our consolidation service means we can combine all your purchases into a single package for shipment, passing on huge savings to you. At ShipByMail, we know you want the best possible items at the best possible prices. That's why we're here to help!
From tiny to huge, ShipByMail is able to accommodate any of your forward packages needs. From the smallest items such as socks or household décor to larger items such as bikes, electronics, equipment and more, we can get it to you. At ShipByMail, there are no surprises or hidden fees.
Ready to shop? Join ShipByMail to receive your free Canada-based virtual addresses right away!
Happy Shopping!
From your friends at ShipByMail
---