Online Shopping from Canada saves you money, Really?
admin
Most shoppers over the world are used to the concept of shopping online from one of the myriad of online merchants in the US and then identifying the cheapest parcel delivery service or package forwarder to deliver the goods to our doorstep. Reasons why shopping online from US Stores is so popular is either due to a lower price or availability issues.
What most online shoppers aren't aware of is that shopping online in Canada has become very popular amongst American and worldwide shoppers in 2018.
Two main reasons: The Cheap Canadian Dollar (thank you Mr Trump with the threats of a trade war) and the explosion of North American brands and their ability to offer shipping from Canada.
As more than 90% of Canadian live within 100 miles of the US border, physical cross border shopping used to be the norm for most Canadians when the US Dollar and Canadian dollar were at par. A whole myriad of cheap parcel delivery services sprouted up in the US offering cheap parcel forwarding services to Canadians.
As of June 2018, with the USD$1 = CDN$1.33, parcel forwarding services have seen their international shoppers dwindle. Canadians no longer drive south of the border to get their groceries anymore and their only compelling reason for shopping in the US is for cheap gas!
These days, more Americans than before do their shopping from Canada and shipping companies and package forwarders in Canada are seeing an explosion in their shipments from Canada to the USA.
Many items in Canada Stores are priced identically US Stores. Take for example two Amazon Choice products on Amazon.ca and Amazon.com, the Kindle and Amazon's Echo Dot. At this time of writing, the Echo Dot and Kindle were 66% and 33% more expensive in the US Store as compared to the Canadian Store.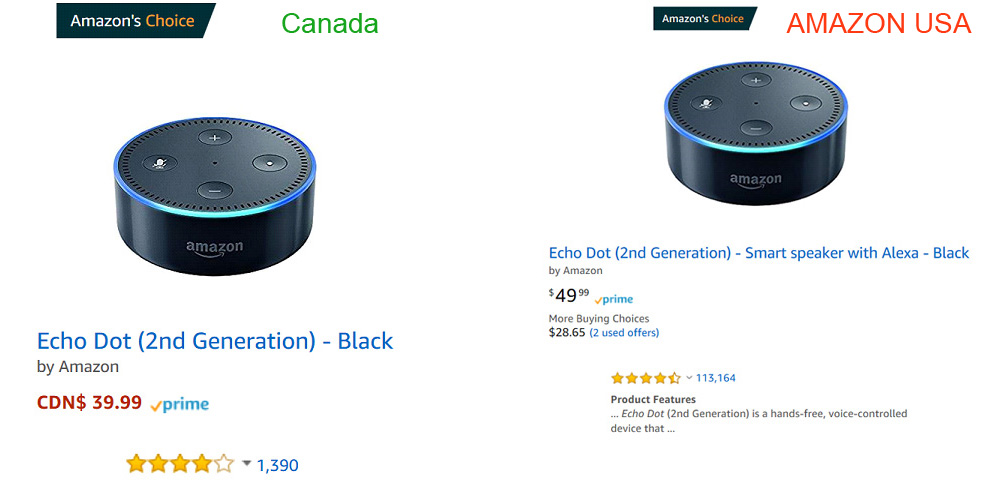 Factor in the cost of a cheap parcel delivery service such as ShipByMail.com which charges approximately US$20 to ship both products to the USA, all of a sudden, you realize why shopping in Canada becomes extremely compelling!
And if this doesn't convince you to start shopping and shipping from Canada, with the closure of all Toys'R'Us stores in the USA, the only place where you can buy toys from this legendary toy shop is from Canada where it will be business as usual for the retailer for the foreseeable future.
---