Free Services With ShipByMail
Rebecca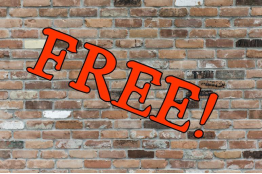 In a day and age where you're almost directly taken to a website page to input your payment method, here at ShipByMail we know the euphoric and gratifying feeling of being able to reap the benefits of something free. So with that in mind, we've compiled a list of all things FREE by your favorite mail forwarders ShipByMail.
Free Canadian Address
One of the single most important free things you'll get from ShipByMail is a Canadian address for all your fax-free shopping in Canada. Why pay all those charges in taxes when you can get a freebie on us?
Free Storage Up To 30 Days
Canadian tax free shopping is awesome, but we know that time can sometimes get in the way. Maybe you need an item held, or you need something shipped on or by a specific date. With ShipByMail, you get free storage for up to 30 days. That's nearly a month of free storage!
Receiving and Matching Your Package To Your Home Address
When you shop tax free from Canada using ShipByMail we make it easy and entirely affordable. That's why with our services you get to receive and match your package at your actually home address-all for free. Leave the rest to us, put your wallet away and get to ordering.
Customs Declaration
Aside from out free offers of cheap shipping from Canada, we also provide another free service that saves you the stress and headaches of government paperwork. With our free customs declaration filing, we'll save you time, and create an easier pathway to getting your items shipped from Canada to USA.
Contents Check
Finally, we provide you a free contents check. When you need to get your items in order and have everything itemized, you want it done fast and easy. So just as with custom declarations, taxes on shipping, and figuring out what address you need on file can be a time consuming and stress inducing, we provide you this service entirely free!
Become a ShipByMail member and you'll be sent your very own ShipByMail Canadian address.
Shop online at any international store, including Canada Goose, The Bay, Lululemon, Amazon, Best Buy, Walmart, Toys R Us, Roots, Ebay and many, many more.
At checkout, include your ShipByMail virtual mailing address.
Once your order is received by ShipByMail, as package forward, we'll send you a notification, assist you with customs documentation and expedite the items from your address Canada to wherever you are on the Globe.
Whether it's clothing, tech, makeup, household accessories or everything in between, ShipByMail can forward package it your way. We've been the package forwarder for many retailers, giving our Members substantial savings on items that would have otherwise cost much more if purchased locally.
ShipByMail works with a number of providers to get you your forward packages quickly. As part of your Membership, our expedited shipping means that you can receive your Express Deliveries in 4-8 business days.
Ready to shop? Join ShipByMail to receive your free Canada-based virtual addresses right away!
Happy Shopping!
KEYWORDS:
Mail Forwarders, Tax-Free Shopping Canada, Canadian Tax Free Shopping, Shop Tax Free from Canada, Cheap Shipping from Canada, Ship from Canada to USA, Canadian address.
---