Live in Australia? ShipByMail is your newest BFF (and your wallet's BFF too!)
admin
Australia is one of the most expensive places on the planet to buy retail goods, regardless of whether you do it in stores or online. If you are paid in Australian dollars, the good news is that your domestic buying power is stronger than that of an overseas visitor. But it still begs the question: why would you pay such high rates for goods purchased domestically when you can buy them elsewhere and save more money? From beer to breakfast, almost anything in Australia costs more. But for those items that can be shipped to your front door via your virtual mail address in Canada, you can find unbelievable savings through ShipByMail! Even better, those savings can really add up. Here's how…
If you're looking at international pricing, Canada routinely beats the United States when it comes to Australian buying power. Simply put, the Canadian Dollar is lower than USD. The annual exchange rate between Canada and the US is incredibly stable, averaging at 1.2986 for 2017 and 1.2957 for 2018 (source: Bank of Canada). Even Americans shop in Canada where possible because they pay an average of 77¢ for every Canadian dollar for their goods. This competitive appeal is demonstrated daily as Americans living close to the border frequently cross into Canada to compound their savings on a number of comparable goods that simply cost less up North. Luckily, Australians can also benefit from this rate difference as well!
Take the January 2019 exchange rates for the Australian dollar for instance. At this time period, every Australian dollar you could either get approximately 0.71431USD or 0.94999CAD. So, despite a marginal price difference for goods between Canada and the US, the difference in the exchange rate means substantial savings for the Australian buyer! In the bigger scheme of things, this means that if you spent $1000AUD, you would have $714.31USD to play with versus $949.99CAD. The kicker is that shipping costs to Australia are very similar between Canada and the US. Not only are you saving big shopping internationally, but you will have even greater savings buying from websites using ShipByMail, the best package forwarders in Canada.
One popular comparison for Australian vs international pricing is with cosmetics. As you likely know, cosmetics in Australia are notoriously expensive. Regardless of the brand, whether it is a Canadian-based company like MAC Cosmetics or an international retailer like Sephora, comparable pricing makes Canadian purchases cheaper. Let's take this lipstick as an example:
MAC Australia
MAC Canada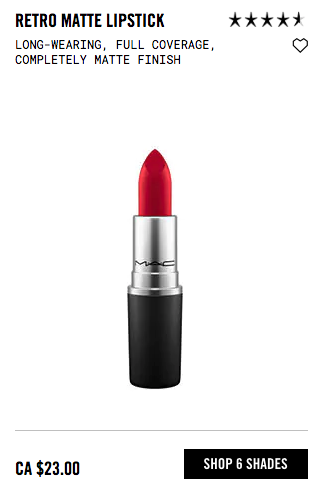 These are the Australian, American and Canadian prices for the 3g/0.1 US oz Retro Matte Lipstick from MAC Cosmetics: the exact same type and brand of lipstick. Now, let's compare these prices based on January 2019 rates below:
| COUNTRY | PRICE | EXCHANGE RATE | AUD PRICE |
| --- | --- | --- | --- |
| Australia | $36.00 AUD | 1 | $36.00 AUD |
| United States | $18.50 USD | 0.71431 | $25.89 AUD |
| Canada | $23.00 CAD | 0.94999 | $24.21 AUD |
This example demonstrates that depending on the date, you could get +/-$11 in savings buying the exact same lipstick from a Canadian supplier over an Australian retailer. That's a huge difference! Just think of the compounded savings if you bought more than a single item in your purchase. What if you bought five of the same lipsticks or five items with a similar price differential? That would give you five times the savings! That is no small chunk of change.
The other great thing about buying cosmetics internationally is that they are small and light, which drastically lowers the shipping costs. The same can be said for a large variety of electronics, apparel and more! And with ShipByMail's handy Package Consolidation services, you can lump all your orders into a single shipment, making your shipping costs as low as possible to maximize savings for you AND your wallet.
Living in Australia, now is the perfect time to stock up on your favourite tech, books, clothing, sporting goods, footwear, household accessories, toys, cosmetics and more! ShipByMail is the easiest way to send goods your way at the best possible prices. Canadian retailers offer excellent pricing, giving you great deals from both Canadian and international brands like Roots, Amazon.ca, Canada Goose, Toys R Us, the Gap, Ebay, Best Buy, Walmart.ca, the Hudson's Bay Company and many, many more stores.
Your Savings Advantage
What is the secret to getting the best possible deals on international goods shipped to your door in Australia? Many popular brands don't provide international mailing services. Regardless of their origin, ShipByMail gets your purchases to you swiftly and safely from your virtual mailing address Canada to wherever you may be on the planet. We've been a package forwarder for many retailers, giving our Members substantial savings on items that would have otherwise cost much more if purchased locally. Thinking of ordering something? Estimate the price of package forward delivery from your Canadian address to wherever you are using our handy Shipment Calculator.
There's a Bonus?
ShipByMail can get you even better savings from your deals through Canadian mail, sending the forward package to you. If you were purchasing directly from retailers, shipping rates would be much higher but you would need to pay shipping for every single package from every single retailer. That would add up to a lot if lost savings. The best part of shopping with ShipByMail? Our consolidation service means we can combine all your purchases into a single package for shipment, passing on huge savings to you. At ShipByMail, we know you want the best possible items at the best possible prices. That's why we're here to help!
From tiny to huge, ShipByMail is able to accommodate any of your forward packages needs. From the smallest items such as socks or household décor to larger items such as bikes, electronics, equipment and more, we can get it to you. At ShipByMail, there are no surprises or hidden fees.
Happy Shopping!
From your friends at ShipByMail
---