IKEA In Canada
Rebecca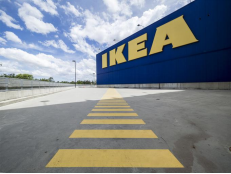 Since 1943, the ready to assemble furniture company IKEA has come a long way from its roots in Sweden to homes all around the world. Founded by carpenter Ingvar Kamprad, he brought the company from small humble beginnings, to the near 40 million dollar valued company it is today. But one thing that IKEA is great for that most overlook is its ability to provide for some great Tax-free shopping in Canada.
Why IKEA In Canada?
The price of purchasing items from IKEA in Canada in terms of the exchange rate versus purchasing them in the United States is far cheaper. It saves you to buy from Canada instead. Package forwarders play a key part when purchasing from IKEA because with IKEA's already consolidated packaging process, a package forwarder decreases the cost by even more. If you have your package forwarded from the USA to your Canadian address, instead of paying USA shipping costs, your paying the far cheaper Canadian costs, and sometimes nothing!
Take for instance the LATTJODuvet cover and pillowcase(s), animal, multicolor, Full/Queen (Double/Queen) priced at $29.99USD vs the Canadian version priced at $26.99. It pays to shop from Canada.
One other reason to pick Canada to shop from IKEA is the fact that Canada always gets an abundance of shipments and stock. Trying to purchase an item can oftentimes come with the unexpected twist of the item being sold out in your country. This isn't the case with Canada.
Why IKEA?
Items that weigh less, mean less shipping costs. IKEA in Canada provides great quality furniture that not only stands the test of time but they also ship their items using package consolidation (least packages possible). This comes this comes out to even more savings. For instance, a bed that is sold in a traditional run of the mill furniture store requires either a big vehicle and or movers, alongside other various costs associated with shipping. But with IKEA, if you let's say, ship from Canada to the USA, it's all package Consolidation. This sets up great for cheap shipping from Canada.
With numerous stores in Canada, IKEA continues to make furniture shop not only affordable but also convenient for wherever you live around the world.
Your Savings Advantage
What is the secret to getting the best possible deals on international goods shipped to your door? Many popular brands don't provide international mailing services. Regardless of their origin, ShipByMail gets your purchases to you swiftly and safely from your virtual mailing address Canada to wherever you may be on the planet. We've been a package forwarder for many retailers, giving our Members substantial savings on items that would have otherwise have been much more expensive if sent to you directly. Thinking of ordering something? Estimate the price of package forward delivery from your Canadian address to wherever you are using our handy Shipment Calculator.
There's a Bonus?
ShipByMail can get you even better savings by enabling you to take advantage of domestic shipping and our international shipment savings. If you purchased goods directly from retailers, your international shipping rates would be very expensive. Worse, you would need to pay shipping for every single package from every single retailer. That is a lot of lost savings. The best part of shopping with ShipByMail? Our consolidation service means we can combine all your purchases into a single package for shipment, passing on huge savings to you. At ShipByMail, we know you want the best possible items at the best possible prices. That's why we're here to help!
From tiny to huge, ShipByMail is able to accommodate any of your forward packages needs. From the smallest items such as socks or household décor to larger items such as bikes, electronics, equipment and more, we can get it to you. At ShipByMail, there are no surprises or hidden fees.
Ready to shop? Join ShipByMail to receive your free Canada-based virtual addresses right away!
Happy Shopping!
From your friends at ShipByMail
---