Puebco Brand In Canada
Rebecca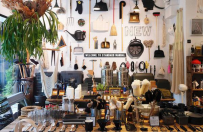 An up and coming company stepping foot inside the Canadian market is Puebco. This Japanese sustain Lifestyle brand is not only changing the game slowly, but also being a pioneer in terms of innovation in brand new markets unseen by most lifestyle brands. Now, they're entering Canada with its first brick and mortar on top of launching a brand new website.
How is Puebco Going About This?
Puebco's plan is all about being strategic. Overtime they've learned what works in both their own market while also studying Canada's booming lifestyle market. Their strategy center's around opening pop-up shops and other locations to create a better in the field relationship with their consumers. The emphasis here involves creating massive brand awareness leading to driving traffic to their site. The more success at this, the better the odds if opening more physical locations.
The dream of founder and Tokyo-based designer Hirotaka Tanaka was to engender a line of products from materials that already existed and helped the environment. Therefore, Puebco prides itself on making things from recycled material.
What Can You Buy From Puebco?
Tanka spend a good majority of his time searching Asia for material that can be used in Puebco products that range from:
Home goods
Travel accessories
Bags
Apparel,
Pet goods
Other lifestyle themed merchandise
And these products all sell at a reasonable price perfect for some Canadian tax free shopping. Most items cost less than $60. The most expensive range only up to about $260, with some package consolidation, Puebco offers plethora of items to ship from Canada to the USA.
Consumers today are more conscious than ever, not only of the best ways to shop tax free from Canada, but also of being green. Puebco specializes in just that, creating an alternative line of lifestyle products that's not only good for your Canada address and wallet, but also the environment!
Your Savings Advantage
What is the secret to getting the best possible deals on international goods shipped to your door? Many popular brands don't provide international mailing services. Regardless of their origin, ShipByMail gets your purchases to you swiftly and safely from your virtual mailing address Canada to wherever you may be on the planet. We've been a package forwarder for many retailers, giving our Members substantial savings on items that would have otherwise have been much more expensive if sent to you directly. Thinking of ordering something? Estimate the price of package forward delivery from your Canadian address to wherever you are using our handy Shipment Calculator.
There's a Bonus?ShipByMail can get you even better savings by enabling you to take advantage of domestic shipping and our international shipment savings. If you purchased goods directly from retailers, your international shipping rates would be very expensive. Worse, you would need to pay shipping for every single package from every single retailer. That is a lot of lost savings. The best part of shopping with ShipByMail? Our consolidation service means we can combine all your purchases into a single package for shipment, passing on huge savings to you. At ShipByMail, we know you want the best possible items at the best possible prices. That's why we're here to help!

From tiny to huge, ShipByMail is able to accommodate any of your forward packages needs. From the smallest items such as socks or household décor to larger items such as bikes, electronics, equipment and more, we can get it to you. At ShipByMail, there are no surprises or hidden fees.

Ready to shop? Join ShipByMail to receive your free Canada-based virtual addresses right away!

Happy Shopping!
From your friends at ShipByMail
---